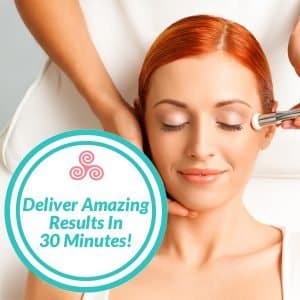 For many estheticians, summer is a time when business slows down. Many clients are busy with kids or away on vacation, and they're looking for a quick treatment that delivers outstanding results. Clients want to save time and stay beautiful and you want to remain profitable.
If you want to earn more revenue while delivering amazing outcomes for your clients, look no further than diamond tip microdermabrasion.
To help you understand how this technology works, I talked to Danielle Wachowski. She is a dear friend and colleague with whom I love to brainstorm ideas and strategies for beauty business owners.
What's Diamond Tip Microdermabrasion?
Danielle has generously shared her knowledge and expertise on diamond tip microdermabrasion:
Diamond Tip Microdermabrasion is a mechanical exfoliation. It's like cardio exercise for your skin. The treatment is short and sweet, so it appeals to many busy women. They can get their glow on in just 30 minutes!
The Difference Between Diamond Tip And Crystal Microdermabrasion
Most microdermabrasion technologies use crystals and they have a few shortcomings that you should be aware of:
Even though microdermabrasion is a mechanical process, it becomes a mechanical and chemical exfoliation when you use crystals since they're usually sodium chloride, which is very drying to the skin.
Crystals can get messy. I remember cleaning crystals out of my clients' ears when I was offering crystal microdermabrasion!
The high-pressure vacuum used in crystal microdermabrasion is hard to control and can be quite damaging to the skin if you're not careful.
On the other hand, Diamond Tip Microdermabrasion is a purely mechanical process that won't dry out the skin. It doesn't create a mess as crystals do and it doesn't use a high-pressure vacuum so it's less likely to damage the skin.
The diamond tip treatment is also more cost-effective since you can get 40 to 45 services from one diamond-tip. Cost per application for diamond tip is just around $1 per treatment! That means more profit for your business in the long run. Heck yeah!
Not to mention, you and your clients aren't breathing in the crystals during a diamond tip microdermabrasion treatment so it's better for everyone's health.
30 Minutes To Glowing Results
Danielle calls her 30-minute microdermabrasion treatment "Glow And Go." It's great for the summer season since your clients can be out the door in just half an hour with zero downtime and immediately noticeable results.  It's a summer glow that's sure to make them happy!
The diamond tip microdermabrasion system combines non-invasive exfoliation without the use of crystals or other particles. It clears the surface of the skin to allow deeper delivery of your professional exfoliation solutions and skin care.
The other great thing is that microdermabrasion is within the esthetician's scope of practice in all states except 2 or 3.
Do keep in mind that there are some contraindications for diamond tip microdermabrasion. For example, clients who don't heal well, have certain autoimmune diseases, or are battling cancer should consult their physicians before treatment.
How To Incorporate Glow & Go 30-minute Treatment In Your Practice
There are many advantages to offering these short-and-sweet treatment sessions this summer. You can package and position the offering strategically to increase sales and maintain a great revenue stream all summer long.
When you package this 30-minute treatment into a series of 3 to 5 sessions, you'll be offering more value and get more clients returning during the summer slow months.
The quick treatment doesn't make your clients sleepy on the treatment table, giving you more opportunities to have a conversation, build rapport, and recommend retail products such as vitamin C serum, hyaluronic acid, and your favorite sun protection items.
You can also offer bundles that combine treatment and retail products to increase sales and boost revenues.